Donate through Amazon Smile!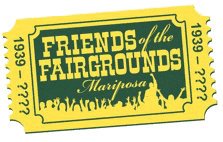 With luck, Friends of the Fairgrounds will be bringing back some Events this year! See our events page!
Mariposa Friends of the Fairground Annual Flea Market
Saturday July 17, 2021 at the Mariposa Fairgrounds
8 AM - 3 PM
Food and drinks will be available
in the Redbud Room
​
If you'd like a vendor booth for yourself or your organization at this event, drop us a line on our Contact page, and we'll get you set up!
​
For your protection, the Health Department asks you to
social distance and wear a mask
​