Donate through Amazon Smile!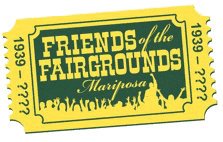 Friends of the Fairgrounds is currently seeking a new Board Member. If you are interested, please send a message detailing your interest and qualifications to the board by clicking here.
There are several ways you can contact us. You can fill out the form at the right, or mail a letter to: Friends of the Fairgrounds PO Box 5008-362, Mariposa, CA 95338. You can send us an email here:
or you can visit our Facebook page. You can also leave us a message at the Fairgrounds Office, or contact any Board member. We'd love to hear from you!