Donate through Amazon Smile!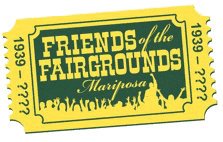 With luck, Friends of the Fairgrounds will be bringing back some Events this year! See our events page!
Want to apply to become Rodeo Royalty?
Read the statement below, and then click for the Application
You can support Friends of the Fairgrounds, and our programs like Rodeo Royalty by becoming a member today. An Annual Individual Membership is just $20. Join us by visiting our Store, and buying a membership today.
2019-2020 
Rodeo Queen: Victoria Smith 
Princess: Tillyanna Healey
 Jr Princess: Daniele Turck.
2018 - 2019
Queen: Ciana DeSelle
Princess: Desiree Turck
Junior Princess: Lily Habeck
2017 - 2018
Queen: Jess Segale
Princess: Rayna Rodgers
Junior Princess: McKenna Tillery
2016 - 2017
Queen: Analise Wall
Princess: Bernadette Wall
Junior Princess: Lily Rumfelt
2015-2016
Queen Miss Stephanie Mason, Princess Miss Kayleen Nelson
Jr. Princess Miss Jenna Binnewies
2014 - 2015
Queen - Kaitlyn Casner
Princess - Briley Dahlem
Jr. Princess - Heley Patterson
2013-2014
Queen Miss Haley Nott,
Princess Miss Victoria Smith
Jr Princess Miss Cadee Barnum
2011-2013
Queen Miss Jocelynn Barrington
MARIPOSA COUNTY FAIR RODEO ROYALTY CONTEST

Do you love Mariposa, the County Fair, Horses and Rodeo? Do you embrace the rural western heritage that we have in Mariposa? Are you a young lady that resides in Mariposa, Madera, Merced or Tuolumne County who is between the ages of 6-23? Then you might just be our next Mariposa County Fair Rodeo Queen, Princess or Junior Princess!
Horsemanship, Interviews, Modeling and Public Speaking are all elements in this contest. The contest starts in June each year and concludes with the crowning at the dinner which is held the second Saturday of August.



For our contestants we offer education and materials to help them in Modeling, Public Speaking, Poise, Interview and Horsemanship to help empower our contestants to be the best that they can be!

Our crowned Royalty attend various fairs, rodeos and community events. If you would like information regarding the contest, having our current royalty make an appearance at your event or would like to become a sponsor, please contact Carol Suggs at mariposarodeo@gmail.com or 209-966-8150 209-347-7759 for more information. Applications are updated annually in March and can be found at the link above, the Fairgrounds office or:

www.mariposafair.com
or
​
This contest is administrated by the Mariposa Friends of the Fairgrounds Foundation.