Donate through Amazon Smile!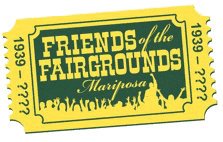 Friends of the Fairgrounds is currently seeking a new Board Member. If you are interested, please send a message detailing your interest and qualifications to the board by clicking here.
Want to apply to become Rodeo Royalty?

!
Watch this space for the 2023-24 contest info!
​
If you would like these young ladies to make an appearance or assist at your local event, please contact Jeanne Casner at: rodeoroyaltymariposa@gmail.com
(209) 769-4285.
Watch this space for information on how to become Mariposa rodeo royalty!
You can support Friends of the Fairgrounds, and our programs like Rodeo Royalty by becoming a member today. An Annual Individual Membership is just $20. Join us by visiting our Store, and buying a membership today.
2021-2022
Rodeo Queen: Miss Desiree Turck
Princess: Miss Emma Maire
Jr. Princess: Miss Averi Rold
2019-2021
Rodeo Queen: Miss Victoria Smith
Princess: Miss Tillyanna Healey
Jr. Princess: Miss Daniele Turck
2018 - 2019
Queen: Miss Ciana DeSelle
Princess: Miss Desiree Turck
Jr. Princess: Miss Lily Habeck
2017 - 2018
Queen: Miss Jess Segale
Princess: Miss Rayna Rodgers
Jr. Princess: Miss McKenna Tillery
2016 - 2017
Queen: Miss Analise Wall
Princess: Miss Bernadette Wall
Jr. Princess: Miss Lily Rumfelt
2015-2016
Queen Miss Stephanie Mason
Princess Miss Kayleen Nelson
Jr. Princess Miss Jenna Binnewies
2014 - 2015
Queen - Miss Kaitlyn Casner
Princess - Miss Briley Dahlem
Jr. Princess - Miss Heley Patterson
2013-2014
Queen Miss Haley Nott,
Princess Miss Victoria Smith
Jr. Princess Miss Cadee Barnum
2011-2013
Queen Miss Jocelynn Barrington