Donate through Amazon Smile!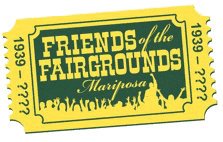 With luck, Friends of the Fairgrounds will be bringing back some Events this year! See our events page!
Event Calendar




Click on the pictures below to learn more about each event:
July 17 - Friends of the Fairgrounds Flea Market on the Midway all day

August 8 - Rodeo Royalty Horsemanship Competition

August 14 - Rodeo Royalty Dinner

September 3 - 6 - Cowboy Beer Booth at the Fair

October 23 - Sausage and Suds at the Fairgrounds: 4-7PM, Tickets required
The Friends of the Fairgrounds Board of Directors meets at the Fairgrounds the third Thursday of each month at 5:15pm. You're invited to attend. If you'd like to address the Board, drop us a line so we can get you onto the agenda.