Membership in the Mariposa Friends of the Fairgrounds Foundation is a way to show your support for our historic facility, and to ensure that it will be here filling its vital role today, and that it will still be here when our children need it tomorrow. There are three levels of membership, and we know that you will find the level that suits you best. The membership levels are: Lifetime, Annual Family and Annual Individual.
​
Interested in which of your friends and neighbors are already members? We proudly display the names of the fantastic supporters who already have memberships below!
There are several ways to join FoF! You can just go to our Store page, and choose the level right for you, or...
Click the donate button in the top left-hand corner and email your form to mariposafriends@yahoo.com, or...
If you would like to pay using cash or check, please print the form and mail it to P.O. Box 5008-362, Mariposa, CA 95338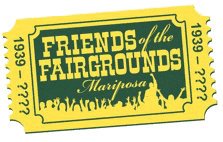 Lifetime Members:
Dan & Marion Tucker
Merlin & Mimi Jones
Carol Johnson
Tom & Amanda Martin
(AMJ Cattle Ranch, Inc.)
Art & Heidi Richards
(Richards Ranch)
Becky Crafts
(In honor and fond memory)
John Amos
Robin Amos
Pelk & Dorothy Richards
Silas & Francoise Upton
Kevin Shelton and family
Naomi Foley
Keith and Diane Hennager
Chase's Foothill Petroleum
William & Shery Loucks
James & Beverly Suggs
Carol & Bill Suggs
Dolce Vita Cattle Co.
(Charlie McCord & Scott Bening)
Christine and Randy Sharp
Barbara Parker
Norma Jean Turner-Sandlin
Steve & Cathy Dahlem
The Turck Family