Donate through Amazon Smile!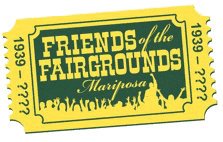 With luck, Friends of the Fairgrounds will be bringing back some Events this year! See our events page!
Join us again this year at the Mariposa County Fair, September 3 - 6, for a cold beer at the Cowboy Beer Booth! Friends of the Fairgrounds will be once again pouring your favorite beer and ciders at our booth. You can find us across from the Strathearn Arena in the Livestock area. Every dime earned goes straight back to the Fairgrounds.
​
Generally we stock Coors Light, Bud Light, a dark beer favorite from Mariposa's own 1850 Restaurant, and a hard cider of some type.
Plan to drop by!
If you're an FoF member, and would like to help with this event, let us know on the Contact page.