Donate through Amazon Smile!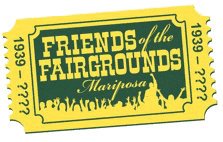 With luck, Friends of the Fairgrounds will be bringing back some Events this year! See our events page!
We're planning a comeback for 2021! Be sure to check out the calendar on our Events page! You'll find important upcoming dates there! Look for our Flea Market coming up in July, and of course, our famous Sausage and Suds Event in October. Also, mark your calendars for the Mariposa County Fair coming up September 3 through 6, 2021!
What's Friends of the Fairgrounds?
- A Mariposa Community grass roots group dedicated to keeping the fairgrounds open and in good repair.

Why does Mariposa need them?
- In 2011 the State of California cut off all funding to fairgrounds throughout the state (a $150,000 a year loss to Mariposa). Some have closed or severely limited operations for lack of funds. Although the State gave the fairgrounds system back some money in 2016, it's a tiny fraction of what it once was (~20%) and not enough to continue year round operations. Our fairgrounds is threatened, and FoF was founded in 2011 to help keep our fairgrounds open and in good repair.

What does Friends of the Fairgrounds do?
- Since 2011, FoF has donated about a quarter million dollars to the fairgrounds. In addition to ongoing maintenance and upkeep, some of the projects FoF has helped with are:

Ads and brochures $ 2,359
Black Smith Repair $ 1,700
Sewer repair $16,830
Septic repair, equipment repair $11,441
Shade Cloth $ 6,487
Tent Cabins $53,183
Theft replacement $ 1,812
Vacation Rental $30,752
Various repairs 2014 $25,648
Various repairs 2015 $19,260
Various repairs 2016 $18,925
Various repairs 2018 $ 6,916
Vehicles $ 7,765
Wi-Fi $10,000
Rodeo support $ 2,700

Why does FoF need me?
- Much of the money FoF raises comes from memberships. FoF also has several large annual fundraisers, and sometimes we ask our members to help out if they can by manning a booth, pouring beer, or helping with some small administrative tasks. There are no meetings required, though you're always welcome to attend the monthly Board meeting.

Is my membership tax deductible?
- It sure is.