Donate through Amazon Smile!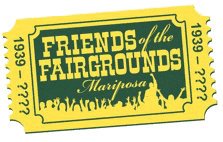 With luck, Friends of the Fairgrounds will be bringing back some Events this year! See our events page!
Mariposa County Fair Rodeo Royalty Dinner
Come join us at the Rodeo Royalty Dinner on August 14, 2021! There will be an on-stage performance, the crowning of this years Rodeo Royalty, and great food and lots of fun! The event will be held in Building A at the Fairgrounds and begins at 5:30 pm. Tickets are $15 per person. Email MariposaRodeo@gmail.com for ticket information.