Donate through Amazon Smile!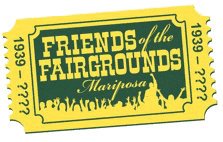 With luck, Friends of the Fairgrounds will be bringing back some Events this year! See our events page!
October 23, 2021 from 4 PM to 7 PM
More than 100 types of beer, and over a dozen kinds of sausage. Truly one of the great Mariposa County social events of the year!
​
Silent auction, gun auctions and four hours of fun and relaxation!
​
When tickets are available, you can get them here, or at the Fairgrounds, at select businesses in Mariposa, or from any Board member.
​
* Note: depending upon conditions, this event may be held outside